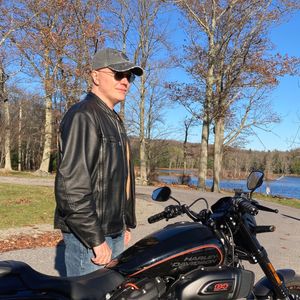 Bio by Lorne Behrman
In his four decades in the music industry, singer/songwriter/bassist David Kuhn has performed on Broadway, worked with iconic Beatles producer George Martin, and enjoyed a satisfying solo career.  You could say he's found the secret to longevity in the biz, and that is humility.  It also doesn't hurt to be a prodigiously gifted musician that can effortlessly shapeshift to work in a wide variety of contexts.
 "With any project or opportunity, I'm always just happy to be there and do my thing.  It doesn't matter if I am in the lead or support role.  I just love being a part of the creative process," David shares. 
These days David is nestled in his home studio embracing a fresh chapter of fevered creativity, and actively pursuing songwriting and composing opportunities for film and TV.
You may have not heard of David, but chances are you've experienced his work.  The Philadelphia-born musician, singer, songwriter, and performer has been a part of 55 feature films and network television shows to date, including Seinfeld, Friends, Beverly Hills 90210, ER, The Nutty Professor, Star Trek VIII, Out To Sea, Family Matters, For The Boys, and American Pie. 
Fun fact: David plays the singer in the band performing in the prom scene of American Pie.
His musical theater resume boasts 42 entries, including being one of the original musicians chosen for both the development and Broadway productions of Pete Townshend's Tony Award-winning rock opera The Who's Tommy.  David also recorded as the bass guitarist for the show's entire Grammy Award-Winning cast album produced by George Martin, famed producer of The Beatles.  Select other standout theater moments include Monty Python's SPAMALOT, The Addams Family, Disney Theatrical's touring production of Elton John & Tim Rice's AIDA, and on-going concert performances with Disney's traveling show "Disney On Broadway"
David's songs have been featured in the ABC Movie of the Week, the Warner Bros. hit series 7th Heaven,  and his song "Time Soldier" was recorded by The Ladder on Atco/Atlantic Records.  David has also lent his talents to a bevy of frontline brands for ad campaigns.  Outside the studio, David has performed live alongside such iconic talents as Bernadette Peters, Don Rickles, Kathy Lee Gifford, Natalie Cole, and Carole King, among others.  Somehow within his busy schedule, he also finds time to give back through offering his skills and wisdom to a variety of acclaimed arts education programs nationwide.
David earned a bachelor's degree in bass performance, and was poised to go the orchestral route, but says with a laugh "he turned to the dark side."         He was seduced away from academic music to explore rock and pop through performing with bands and exploring theater musician roles around town.  At the time, Philly was something of tune-up spot for Broadway productions and David quickly became in demand locally before being up streamed to official NYC performances.  Post Philly, David migrated to Los Angeles where he did TV and soundtrack work for 13 years before moving to New York City.
His skills as a songwriter came to the fore while working with a jazz-fusion group which made the transition to a pop band.  As the band began to explore tidy verse-chorus songcraft, David stepped up and was quickly accepted as a contributing songwriter.  "My real 'ah-ha' moment, though, was when I bought a four-track recorder," he shares.  "Hearing my songs played back made me realize that's what I wanted to do because recording is such a vital part of a songwriter's process.  It lit me on fire."
Signature to David's songwriting are well-thought out arrangements, dynamic use of melody and counter melodies, subtle dashes of arty musicality, rugged riffs, instantly familiar hooks, airy harmony vocals, and ever so slightly sophisticated chord sequences.  Thematically, David's songs tend to be uplifting.  A standout in his solo career catalog is "One Last Look" from his 1997 release, Talk It Over.  The song is a smart power-pop track that boasts a unique groove inspired by Yes's "Roundabout."
David has a fresh catalog of unreleased material ready to share.  "Feeling Good" conveys his optimistic life outlook.  David's penchant for deep pocket grooves and vibrant musicality is evident on "On Our Way" where he conjures two other clever, pop bassist-composers, Sting and the Beach Boys' Brian Wilson.  The stately piano ballad "Time To Say Goodbye" unfolds elegantly with ethereal textures to convey subtle drama.  The song is an emotional centerpiece in this current batch of unreleased tracks as it explores his bold decision to leave New York to brave the wilds of rural living.
Today David makes the commute to New York for select projects. However, these days his focus is on writing and recording in his studio.  Reflecting on his life in music he says:  "I realize I am so fortunate to be doing what I truly love —I've always been able to work in this business, and I still love it."
###
Bio by Lorne Behrman
Photo by Maria Vullo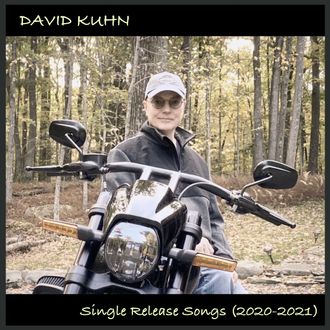 Single Release Songs (2020-2021)
Current Release - Feb. 2022